Curriculum
Curriculum & Philosophy
It is our hope that your children grow to their greatest potential physically, emotionally, and academically while they are in our care.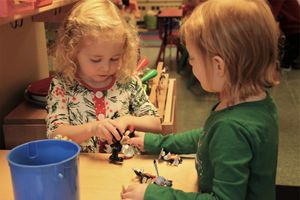 Children
Goals & Objectives For Children
At each stage in the development of children there are various key milestones we look for. For example, babies usually smile before they coo & usually roll over before they crawl. Toddlers usually walk before they run and babble before they speak sentences. These milestones continue all through a child's life even into young adult hood. We've adopted some general goals for children and families that span all age groups of children we serve.
Goal 1: To learn about themselves
To feel valued and secure in their relationships

To feel competent and proud about what they can do

To feel supported as they express their independence
Goal 2: To learn about their feelings
To communicate a broad range of emotions through gestures, sounds & as they grow, use words

To express their feelings in appropriate ways
Goal 3: To learn about others
To develop trusting relationships with nurturing adults.

To show interest in peers

To demonstrate caring & cooperation

To try roles and relationships through imitation and pretend play
Goal 4: To learn about communicating
To express needs and thoughts without using words

To identify with a home language

To respond to verbal and nonverbal commands

To communicate through language
Goal 5: To learn about moving and doing
To develop gross motor skills

To develop fine motor skills

To coordinate eye and hand movements

To develop self-help skills
Goal 6: To acquire thinking skills
To gain understanding of basic concepts and relationships

To apply knowledge to new situations

To develop strategies for problem solving
Families
Goals & Objectives For Working With Families
Periodically we meet to review our progress in helping children and families meet these goals. We set our center's work based on our reflection and feedback from our customers. Please take a moment to read our goals. We encourage feedback on our work. We provide yearly opportunities for formal comments on our work through surveys; however our doors are always open to your suggestions and comments on our work towards our goals. Please contact the administrator and/or administrative assistant at any time. We welcome your partnership in our work with your children.
Goal 1: To build a partnership with families
To involve families in the program's planning and evaluation process

To listen to and discuss families' questions, concerns, observations and insights about their children

To communicate regularly with families at arrival and departure times about how things are going for their child at home and at the center

To schedule regular conferences

To discuss with families ways to handle children's challenging behaviors

To resolve differences with families in a respectful way

To help families gain access to community resources
Goal 2: To support families in their parenting role
To demonstrate respect for a family's approach to childrearing and their feelings about sharing the care of their child

To celebrate with families new milestones in their child's development

To incorporate family rituals and preferences into the daily life of the program

To offer workshops/training on child development and other topics of interest to families

To help families network with one another for information and support
Goal 3: To support families in their role as primary educators of their child
To encourage family involvement and participation in program activities

To provide families with strategies to support children's learning at home
Goal 4: To ensure that the home cultures of the children's families are reflected in the program
To support children's use of their home language

To encourage children's awareness of and interest in home languages spoken at the program

To seek families' assistance in learning about the children's home culture

To include objects and customs from the children's home cultures in the program's environment, routines and activities

To interact with children in a style that is respectful of their home culture
State & National Standards
A Strong Foundation
Our teaching staff has adopted a curriculum that uses the Wisconsin Model Early Learning Standards as a foundation. In conjunction with National Accreditation Commission standards, these two sets of standards help our staff to maintain focus on age appropriate child development.
They choose "Themes" for each week of a month. These rotate with the seasons as well. These themes are then their basis for planning each classroom's activities. A week designated as Teddy Bear Week may include books about teddy bears, songs at circle time about bears, art work about bears, discussions about hibernation, counting teddy bears or other such activities talking about teddy bears. Teachers plan activities age appropriate to the children they are serving.
Social Emotional Health & Well-Being
Community Care believes strongly in the importance of social emotional health to the development of all ages of children.
Our team embraces teaching methods outlined in The Pyramid Model for Supporting Social Emotional Competence in Infants and Young Children. This framework guides early care educators in age-appropriate concepts to help early to help early educators build skills for supporting nurturing and responsive caregiving, create learning environments, provide targeted social-emotional skills, and support children with challenging behaviors. Each team member has extensive training and coaching in the model and are a resource for parents for support and teaching.
For more information see: pyramidmodel.org
Resources for Children
Community Care is concerned about the healthy growth and development of all children we serve. If parents have questions or concerns regarding growth and development of their child, we invite you to use us a resource for services available in our community.
For children birth to age three, the Birth to Three program is available. For children older than three, the Beaver Dam Unified School District has resources available. We are happy to help families partner with other services to give the children what they need to grow and develop to their highest level possible.
Field Trip Policy
Field trips provide a wealth of extended learning for children. We strive to provide developmentally appropriate and interesting field trip opportunities on a routine basis for the children at Community Care. Field trips can constitute a simple walk around our neighborhood, a walk to the park, a visit to the library or a scheduled trip to a location where we ride the bus.
We contract with a local bus company for our transportation needs. Before leaving on a field trip of any kind, each teacher will count the number of children assigned to them and notify a support staff person upon departure from center. Each teacher will carry a count sheet so they are aware of the names and number of children assigned to them each day. Each teacher also carries emergency contact forms for all children in their care and a simple first aid kit. Before the bus leaves the center and before leaving the field trip area, a staff member will do a head count to ensure that all children have been accounted for. When returning to the center after children have exited the bus, a staff member will do a walk through to the back of the bus to ensure that all children have exited the bus.
Swimming Field Trips
We include swimming field trips in our curriculum for school age children in the summer.
There are special child-to-staff ratios that are followed whenever a swimming field trip occurs. We follow all state licensing requirements for swimming field trips. We have special rules relating to swimming field trips outlined here for your reference.
Children who are non-swimmers will be instructed to stay in water not more than waist high.
Children who are proven swimmers to staff and/or lifeguards at pools who require it will be allowed in water deeper than waist high.
Swimming field trips are only allowed at destinations where lifeguards are on duty at all times.
Written permission for swimming field trips will be maintained separately in the child's file.
Parent Involvement
Parents and staff are partners in the care and education of the child. In order to increase parent involvement and foster a sense of partnership in giving care to your children, we have numerous opportunities for parents to become involved with our center.
We publish a monthly newsletter to keep parents informed of program activities and/or changes. Teaching staff communicate with parents daily through our electronic app. Observations, messages and milestone achievement are just a few topics our teachers share with parents. We provide an opportunity for 2 scheduled parent/teacher conferences per year—one in the spring and one in the fall. The staff and Administrator are willing to answer any questions or consider any suggestions you might have. You may contact them if you wish to set up a conference concerning your child's progress at any time throughout the year. We urge you to actively evaluate the center's programs and offer suggestions and recommendations to the Administrator or express them to board members.
S.I.D.S. Policy
What is S.I.D.S.? S.I.D.S. stands for Sudden Infant Death Syndrome. This is the sudden and unexplained death of a baby under the age of one year.
Because many S.I.D.S. babies are found in their cribs, some people call S.I.D.S. "crib death", but cribs do not cause S.I.D.S. Doctors and nurses do not know what causes S.I.D.S., but they do know:
S.I.D.S. is the leading cause of death in babies after one month of age.
Most S.I.D.S. deaths occur in babies who are between 2 and 4 months of age.
More S.I.D.S. deaths occur in colder months.
Babies placed to sleep on their stomachs are much more likely to die of S.I.D.S. than babies placed on their backs to sleep.
African American babies are twice as likely to die of S.I.D.S. as white babies.
One of the best ways to lower the risk of S.I.D.S. is to put baby on his or her back to sleep, even for naps. All babies at Community Care will be placed on their backs when placed in cribs/pack n plays.
All staff are in-serviced in S.I.D.S. prevention techniques and follow the guidelines listed in the "Back to Sleep" pamphlet.
Get started
Join our Preschool & Child Care
We welcome you visit us in person to see if your family would like to join our Community Care family. Please contact us to schedule a tour!